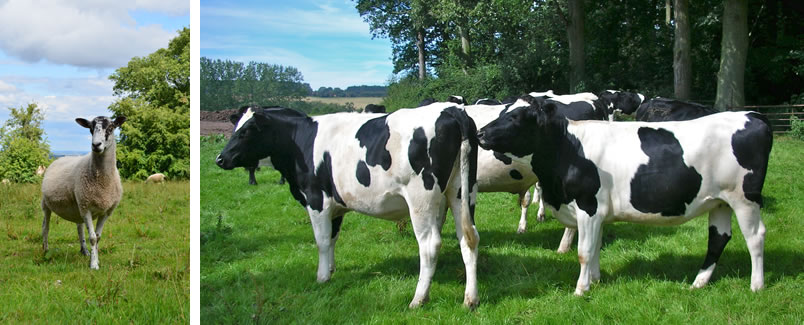 Farm Animals
We are fortunate to have a very experienced, long standing team of five farm vets with a great breadth and depth of knowledge of dairy, beef and sheep enterprises. In addition, we have an active interest in llama and alpaca veterinary medicine and four of our vets farm cattle or sheep on their own account. Our vets are very active members of the British Cattle Veterinary Association (BCVA) and the Sheep Veterinary Society (SVS).
Our aim is to work with you to optimise the health and productivity of your animals and, if at all possible, to prevent disease. We like to look at the farm as a whole, considering areas such as nutrition, grazing management and forage analysis together with the prevention of infectious diseases and parasite control.
Rather than the idea of vets treating sick animals, we would like to help prevent your animals becoming sick, for instance by promoting vaccination programmes for diseases such as calf scour and pneumonia or abortion in sheep. Most of our longstanding clients have their own vet who is very familiar with the farm and the business, managing and monitoring the health of the animals on that farm.
TB testing and emergencies are covered by all members of the Practice team.
Did you know we have a dedicated Facebook page for Farm Animals and Livestock?
RCVS


Royal College of Veterinary Surgeons

BCVA


the British Cattle Veterinary Association

BSVA


the British Sheep Veterinary Association