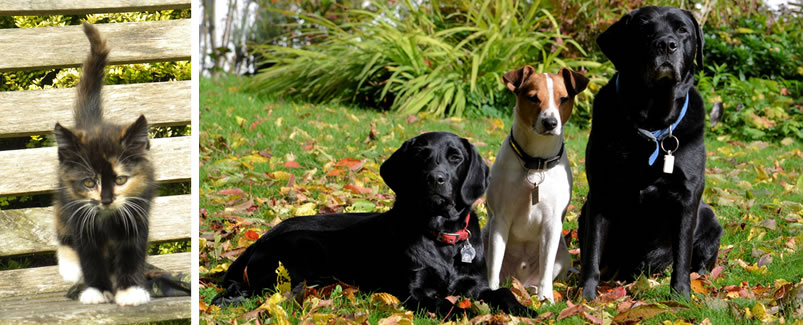 News
- EQUINE INFLUENZA (FLU) VIRUS OUTBREAK -
Racing was shut down today as a precautionary measure to restrict the movement of thoroughbred race horses and prevent any further spread of the equine influenza (flu) virus within the racing community.
This is a standard contingency in the event of an infectious disease within UK racing, in order to assess the scale and severity of the outbreak. Results of tests over the next 24 hours will help the industry decide on any further action.
It is not currently being recommended that other, non-racing, equine events are cancelled, but this might change depending on how the disease develops.
We are encouraging horse owners to be vigilant for signs of flu that may be mild. These can include coughing, nasal discharge, a high temperature, swollen glands (under the lower jaw), depression, and loss of appetite. Affected horses often don't show all of these signs and infection can easily be missed. These signs may also be noted in horses vaccinated against Equine Influenza (EI) , but would typically be less severe than in non vaccinated horses.
If these signs appear, then owners should isolate the horse and call us immediately.
It is essential that horses showing any of these clinical signs, and horses that have been in recent contact with horses showing these signs, do not travel to competitions or other events where there will be groups of horses.
Recent outbreaks have been in the East and North West of the country, the closest being in Cheshire (see map). There have been two recent outbreaks in Newmarket, one of which is in previously vaccinated horses. It is this fact, together with the unusually high current incidence of Influenza outbreaks and the isolation of the 'Florida Clade 1' strain of Flu that has triggered the racing ban.
A 'clade' is a term used to classify a sub- group of Influenza viruses and Florida refers to the place where it was first isolated. Influenza viruses will regularly change their genetic make up through mutation. There are many different variants of Influenza viruses and there is global surveillance of new outbreaks. In this country, the Animal Health Trust (AHT) coordinates national surveillance and our Practice is a member of their subsidised scheme for testing and identifying horses infected with Influenza.
Any horses suspected of suffering from flu can have a swab taken from their nose and a blood test to identify definitively the flu virus and strain.
We recommend vaccinating any horse that has not received a flu vaccination within the past six months to boost both the immunity of individual horses and to increase the national herd immunity. Our vaccine contains a strain of Florida clade 1, but, as demonstrated by the recent outbreak in Newmarket, vaccination does not provide 100% protection.
SOME BACKGROUND ON FLORIDA CLADE 1 (FC1) STRAINS OF EQUINE FLU
For many years Florida clade 2 (FC2) has been the dominant clade circulating in Europe. It was responsible for the 2003 outbreak in Newmarket, the last major outbreak affecting the UK, and has caused sporadic outbreaks across Europe ever since. Florida clade 1 (FC1) however has been less common in
Europe. Although the last isolation of FC1 in the UK was February 2018 (from one outbreak affecting two horses that were recently imported from the Netherlands), FC1 had not been detected in the UK since 2009 and in Europe since 2011.
FC1 viruses are typically found in North America and were responsible for several major outbreaks around the world, including in South Africa in 2003, in Japan and Australia in 2007 and in South America in 2012 and again in 2018. So far, the origin of the virus that is currently affecting the UK is unknown and no epidemiological link with the ongoing outbreaks in Europe has been established.
Keeping Britain's Horses Healthy
A healthy horse is a happy horse. Join the campaign and help keep yours and Britain's horses healthy. Be part of a national community that brings together the horse owner,yard owner and vet, to ensure best equine healthcare practices are shared and adopted.
DENTAL
Many horses will suffer silently from dental disease, so it's important to have regular check-ups to ensure their mouth is healthy. If you spot any of the following signs your horse could be experiencing dental problems:
Smelly breath
Quidding - dropping partially chewed food
Reduced appetite/difficulty eating/slow eating
Food packing within cheeks

Poorly digested food in droppings

Weight loss
VACCINATIONS
Why should you vaccinate your horse?
To prevent the spread of disease
To prevent unnecessary suffering and potential death
To prevent additional unplanned expenses – costs of treatment can far outweigh the costs of vaccination
To prevent loss of use – a sick horse should not be ridden or exercised until it has completely recovered

To prevent yard closures and sporting cancellations – horse movements on a yard may have to be restricted or cancelled if a horse is diagnosed with an infectious disease
WORMING
Ensure you target specific worms with an effective product at the correct time of year and use Faecal Worm Egg Count testing during the main grazing season (April to September) to identify which horses need a wormer during this period
For further information on any of the above please contact us on 01568 612266 to access free booklets on horse dental care, worming or vaccinations please click here
**Update on new Avian Flu Prevention Zone**
The government has introduced a new Avian Flu Prevention Zone which applies to the whole of England, including small backyard flocks. This follows Avian Flu cases being confirmed in wild birds in South Dorset and Warwickshire in the last few days. The order does not require you to house birds as yet, but instead make their environment less attractive to wild birds (e.g. keep food and water out of access of wild birds) and to increase your biosecurity procedures.
For further information please visit the website below.
https://www.gov.uk/government/news/avian-influenza-bird-flu-in-winter-2017-to-2018
Join us for the World's Biggest Coffee Morning
Come along and join us on Friday 29th September from 9.30am to 11.30am at our Leominster surgery to raise money for the Macmillan Coffee Morning.
Raising money for this worthwhile cause can help make a huge difference to people affected by cancer and will help to fund Macmillan nurses, provide information about cancer, help with financial support, like grants and advice, fund the Macmillan Support Line and helping the Macmillan nurses be there when people need them the most.
We look forward to seeing you on Friday!
Congratulations to newly qualified Jan Thompson!
We would like to say a very big congratulations to our student Jan Thompson who last week passed all her exams and is now a Qualified Animal nursing assistant! Well done Jan we know how hard you worked!

Sunday 10 September 2017
Pet owners warned of risks of cheap jerky treats
Pet owners in the UK are being warned about the potential risks of feeding their pets cheap jerky treats.
The Veterinary Poisons Information Service (VPIS) have set up an online registry following 25 confirmed cases of pets in the USA, Canada and Australia which had developed Fanconi Syndrome after eating low-quality jerky treats. Clinical signs of Fanconi Syndrome include; vomiting, lethargy, anorexia, polyuria, polydipsia and weight loss. The clinical course, treatment and outcome of Fanconi Syndrome are variable and there can be many causes of the disorder. Many dogs who have developed the disorder from eating the jerky will recover once they stop eating the treats.
In its annual report the VPIS found that the treats originated from various countries, the most common being China (59%). The retail source of the treats was unknown in most cases, although pet owners are advised to be cautious of cheap treats sold at high street retailers.
The FDA is continuing to investigate potential causes of Fanconi Syndrome, but after extensive tests the cause of the disorder associated with jerky ingestion remains unknown.
If you notice that your pet is unwell following ingestion of jerky treats, you should contact us for advice. Symptoms you may notice might include: vomiting, diarrhoea, decreased appetite, decreased activity and increased drinking or urination.
Please be aware of the risks involved in feeding your pets this type of treat; you should give them sparingly, and should avoid any cheap brands on the high street or online.
Please
click here
to view our Archived News section