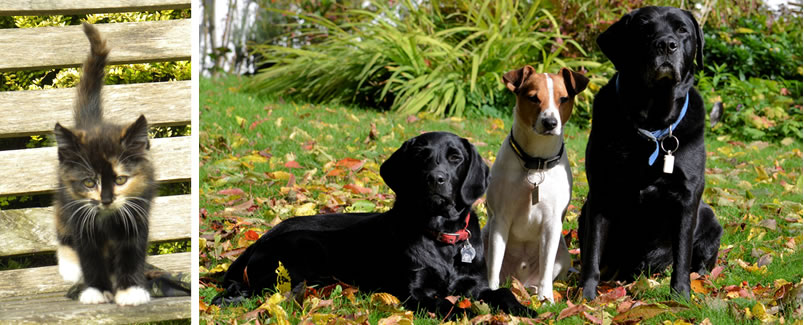 Pets
We treat dogs, cats, rabbits and other 'small furries' such as guinea pigs, hamsters, gerbils and chinchillas. We also treat injured wild animals and, infrequently, birds and exotic species. Our dedicated, professional team aims to provide the highest standard of care and treatment for your pets in a caring, comfortable environment with the best equipment and facilities available to modern veterinary practice.
We treat your pets like our own, from first vaccinations through to emergency treatment or major surgery. We believe that prevention is better than cure - a healthy pet is less likely to become unwell. Between our vets and veterinary nurses, we offer a very wide range of preventative health care, routine treatments and routine operations. If your pet becomes unwell, we have the staff, skills and equipment to undertake an extremely extensive range of diagnostic investigations, medical treatments or surgical procedures.
If further specialist diagnosis, treatment or surgery is required, we will discuss the options with you and may recommend referral to a Specialist Small Animal Veterinary Hospital or to John Davies, our consultant Small Animal Orthopaedic Surgeon. John sees second opinion cases from our own and other Practices at our clinic. We also have very close professional relationships with the Small Animal Teaching Hospitals at The University of Liverpool and The University of Bristol.
We offer an extensive library of pet health factsheets and information. Please click here to view the information available.
RCVS


Royal College of Veterinary Surgeons

BSAVA
the British Small Animal Veterinary Association