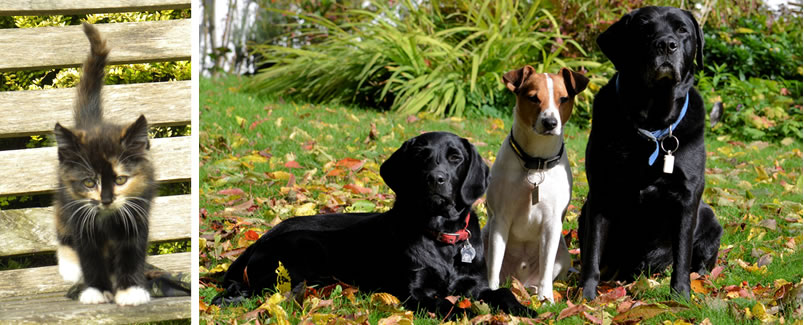 Specialist Services
BVA British Veterinary Association Hip and Elbow X Ray scoring
Many Breed Societies require the 'scoring' of animals' hips and elbows before breeding so as to reduce the risk of their offspring developing hip or elbow dysplasia. Our vets are very experienced at taking the X-ray images required for submission to the British Veterinary Association's panel of experts who then give the animal's hips and elbows a 'score' that reflects the risk of future disease in any offspring.
Many breeders travel long distances to our Practice to have their animals X-rayed and we also offer a screening service to decide which animals are best selected for submission to the BVA scheme. Our hospital standard X ray machine and digital processor enable us to take the highest quality X ray images and to submit them in digital format to the BVA.
Advanced Orthopaedic Surgery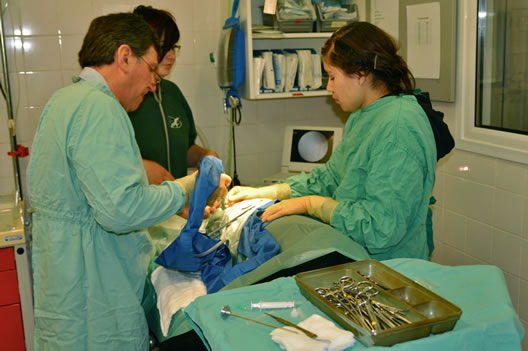 We are very fortunate to have John Davies as our consultant orthopaedic surgeon. His skills, our facilities and the dedicated support of our nursing team allow him to perform some amazing surgery.
Examples of operations include spinal surgery to decompress prolapsed discs, the repair of complex fractures and arthroscopy of injured joints. John employs an advanced surgical technique called TPLO to treat dogs with ruptured cruciate ligaments. In addition to treating our own patients, John also sees many referral cases from other Veterinary Practices at our Clinic.

Advanced Soft Tissue Surgery
Just some examples of procedures undertaken by our vets include surgical excision of the thyroid gland in hyperthyroid cats, corneal graft surgery for severely damaged eyes and penile amputation for cats with recurrent urethral blockage.
We have a particular interest in the management of challenging wounds and use innovative reconstructive surgical techniques and dressings incorporating cutting-edge technology. We are active members of the Veterinary Wound Library which undertakes research into new techniques of wound healing.
Advanced Medical Investigation
We see a very diverse range of medical conditions in our own patients and those referred to us by other Veterinary Practices. Our vets relish the diagnostic challenges that these cases present and utilise their skills and our state of the art equipment to diagnose and treat many different medical conditions in our clients' pets, such as:
Ultrasound examination of the heart and chest X Rays to diagnose and treat animals with life threatening heart conditions
Endoscopy of the airways and chest xrays to diagnose and treat diseases of the lungs and chest
Investigation and treatment of anaemia, bone marrow and clotting disorders using bone marrow biopsy and blood transfusion

Chemotherapy for some cancers in collaboration with Specialist Oncologists
Advanced X Ray techniques such as myelograms to investigate compression of the spinal cord and specialist Xrays of the bladder