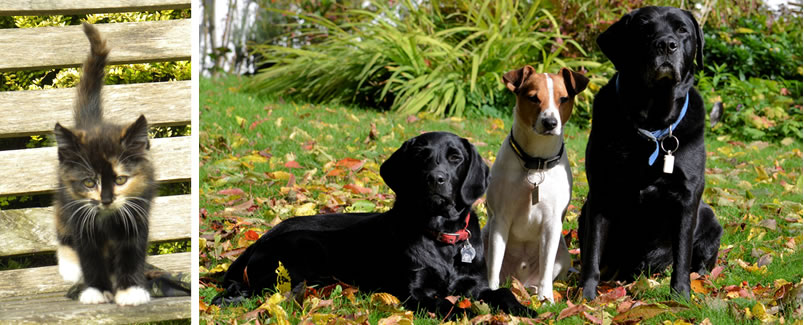 Veterinary Nurse Clinics

Chubby Chums
Many health issues are made much worse if your pet is overweight. For example arthritic dogs are generally more lame and immobile if they are carrying extra weight and usually need lower doses of medication once slimmed down. Our nurses provide free clinics to formulate a weight loss programme tailored for you and your pet. This may involve modification of diet or exercise or both. There is no instant cure for losing weight and so regular appointments with our specially trained nurses help maintain motivation and progress. If appropriate, our nurses will ask a vet to take a full history and examine your animal if there is an indication of a medical condition that may be causing obesity, such as an underactive thyroid gland.
Please call us on 01568 612266 for further information.
Juvenile Checks
When your pet reaches six months of age, we offer a free consultation with one of our nurses to check that your puppy or kitten has continued to develop normally. If you have any concerns, the nurses are a marvellous source of information and help. This is a good time to discuss neutering.

Dental checks
Another free clinic run by the nurses. They can advise you on how to keep you pet's teeth healthy with special chews, diets or toothpastes to clean their teeth.
Nail trimming and microchipping
Both of these are performed at the Practices by the nurses.
Worming and flea control
If this is your least favourite time of year, then avoid the scratches and regurgitated tablets and ask our nurses to ensure your cat or dog has its medicine! This is done free of charge when the treatment is purchased from the practice.
Senior checks
As dogs and cats age, their management, exercise and feeding may need to be altered to keep them healthy. The nurses run a free clinic to advise you on the different preventative health options suitable for your pet.